Michigan Republicans Are Calling for Trump's Apology, Including Congressmen Paul Mitchell & Fred Upton
One voice is notably absent in the bipartisan outrage over President Trump's reprehensible attacks on Rep. Debbie Dingell and her late husband at last night's rally in Battle Creek: failed Senate candidate John James. James came out of hiding to speak at Trump's rally, where he fiercely defended the President's record and criticized the investigations into his conduct. But after Trump's vile comments attacking a legendary former Michigan congressman who passed away earlier this year, will James speak out publicly and call for Trump to issue an apology? 
 
Several other prominent Michigan Republicans are calling on Trump to apologize: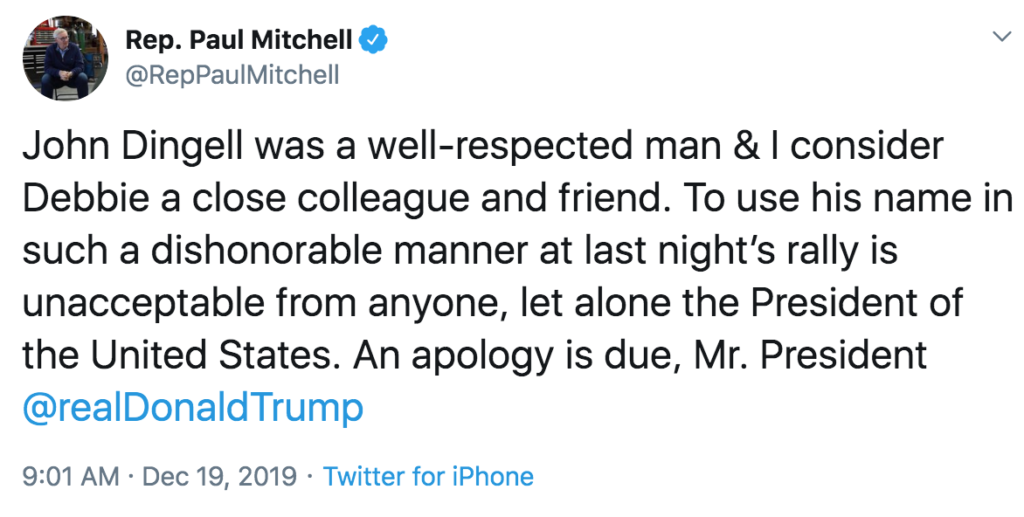 This would be far from the first time James has run from questions about Trump's controversial rhetoric and conduct. For months, James ducked questions about ongoing investigations into Trump's Ukraine call and his refused to comment when Trump told several Democratic Congresswomen to "go back" to the countries they came from. James also told MLive he would never criticize Trump publicly, and only do so in private.
"After coming out of hiding to join Trump last night, will John James speak out against the president's disgusting attack on the Dingells?" said MDP Spokesperson Alex Japko. "We know James' '2000%' support for Trump has kept him from speaking up in the past, but even Michigan Republicans in Congress admit Trump went too far this time. If John James won't stand up to Trump now to defend Michiganders, it's clear he never will." 
###