What Did James Discuss With the Ukrainian Businessman Accused of Paying for Political Favors?
A newly unearthed photo shows John James holding a meeting with Ukrainian businessman Lev Parnas, who was indicted for funneling foreign money into U.S. elections for "political favors," and President Trump's personal lawyer Rudy Giuliani. The photo was part of a new CNN report on Parnas and Giuliani attending GOP campaign events in the days leading up to the 2018 elections. This comes after the Wall Street Journal reported last week on a picture from Parnas' private Instagram showing the three posing together.
Here's the new photo of the meeting: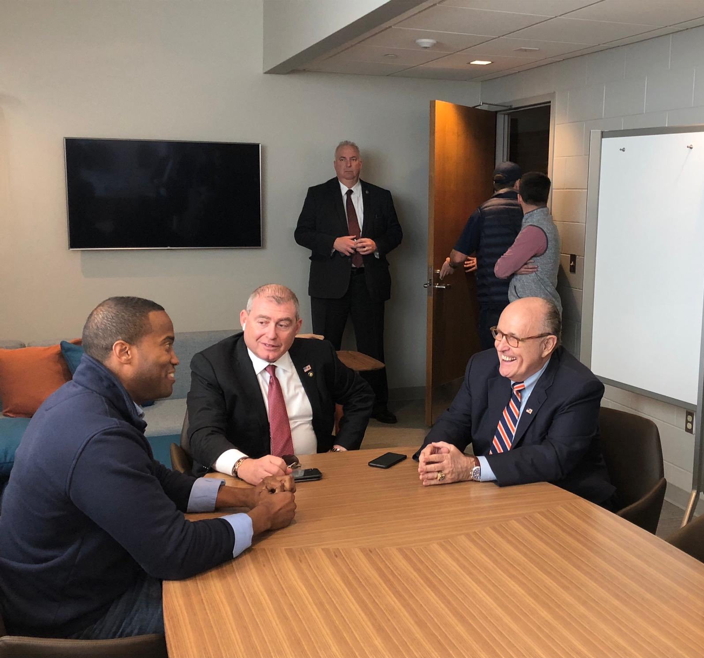 This once again raises questions for John James: why did he meet with them and what did they discuss? Is this why James has "remained silent on the president's conduct," and refused multiple times to comment on the ongoing scandals surrounding Trump and Ukraine? Michiganders are still waiting for answers.
"John James held a sitdown meeting with a shady businessman and Trump's personal lawyer as they were engaged in an illegal campaign finance scheme, and the question is why?" said MDP Spokesperson Alex Japko. "As more evidence and details of this questionable meeting surface, it's clear James can't continue hiding from these questions. Michigan voters deserve to know why James met with Parnas and Giuliani, and if he promised them 'political favors' if elected to the Senate in return for their support."
###