LANSING — On the heels of Governor Whitmer's "What's Next" address, support for paid family leave has been overwhelmingly positive as Michiganders rally behind this popular and necessary policy. This reception makes it more clear than ever that the MI GOP's outlandish messaging memo calling paid family leave "summer break for adults," is not only offensive but fails to resonate with the vast majority of people in our state.
Their thoughtlessness has already been highlighted in Truthout, The American Independent, and Daily Kos, with Chair of the Michigan Democratic Party Lavora Barnes calling the language in the Republican memo "offensive beyond belief," saying, "There is no way to spin it — this is a blatant insult to everyone caring for a loved one and having to make some of the hardest decisions of one's life."
Is paid family leave really that popular? Let's bring in the numbers for a second:
This is not a partisan issue – check out some of these stories that highlight the overwhelming support for paid leave among Michiganders, contrasted with the Michigan GOP's outlandish comments:
Michigan Advance: Black Michigan mothers continue call for paid family leave legislation
State Innovation Exchange, a nonprofit organization that collaborates with state legislators, conducted a 2022 survey in Michigan with EPIC-MRA and found overwhelming support for paid family leave.

The major finding was that 81% of respondents supported "allowing Michigan to join with other states in creating a state level paid family and medical leave law that would permit workers to receive time off to care for a seriously ill family member, or to care for a new addition to their family."
MIRS: Paid Family Leave Bills Are Near The Front Of The Line
Whitmer highlighted paid family leave legislation as one of the Democrats' top priorities during her address, referencing the 77% – or about 3.7 million Michigan workers – who do not have access to paid family leave.

She was joined in support of the House and Senate Democratic legislation by Rep. Donavan MCKINNEY (D-Detroit), who said his experiences with both new life and loss have highlighted the importance of giving Michiganders more options for taking leave.

Truthout: "Deeply Out of Touch": MI GOP Calls Paid Family Leave "Summer Break for Adults"
To compare paid sick or family leave to "summer break" is to suggest that workers would only use such policies for fraudulent reasons. Of course, this is untrue just taken at face value — workers get sick and need time to recover.
The American Independent: Gov. Gretchen Whitmer says it's time for Michigan to pass paid family and medical leave
"No one should have to choose between being there for their family and a paycheck," Whitmer said in a speech in downtown Lansing. "Paid family and medical leave is a pro-family, pro-small business policy that will grow our state and its economy."
Daily Kos: Michigan Republicans go after paid family leave, calling it a 'summer break'
Poll after poll shows strong majorities of support for paid family leave, even among Republicans.

Giving birth and taking care of a newborn is just like summer break. Recovering from surgery, same. Taking a loved one to chemo and then caring for them through the ensuing misery? A day at the beach.

Finally, see what our Michigan leaders have said on social media about the popular policy: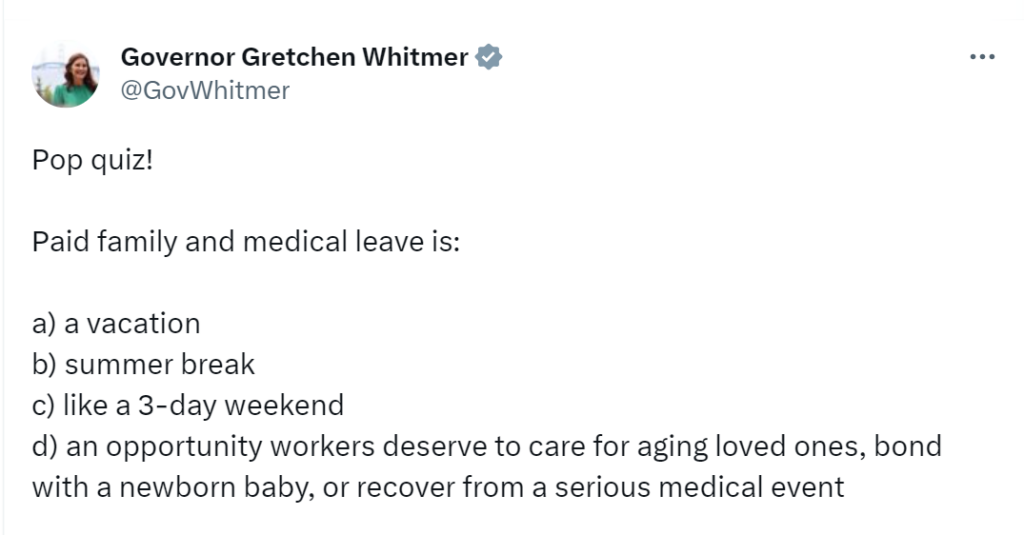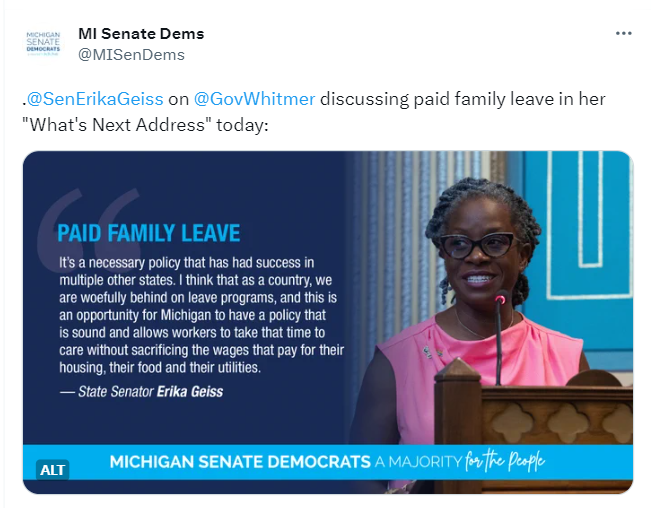 American Heart Association Michigan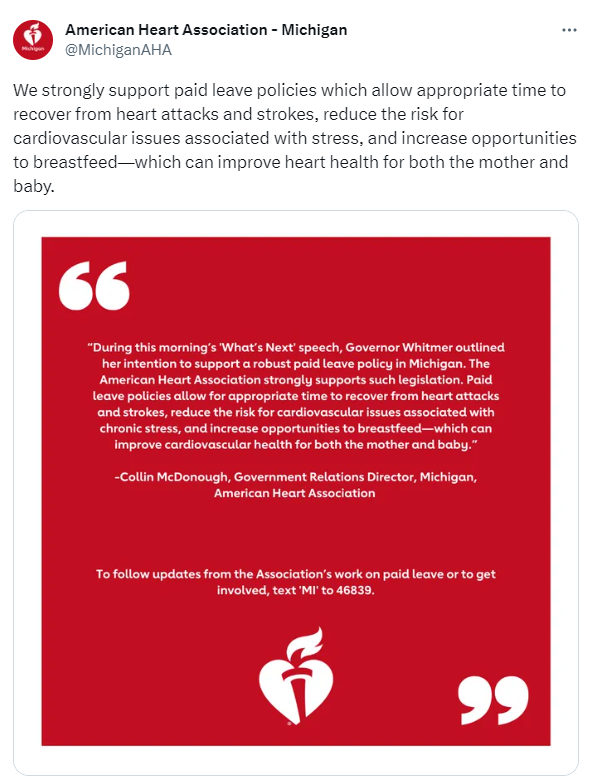 Michigan League for Public Policy

Despite Republicans' fervent opposition, one thing is clear – paid family leave is hugely popular among our communities. One would think the MAGA Michigan GOP would realize by now their extremist rhetoric is not gaining them any advantage. No matter what, Michigan Democrats are listening to the voices of Michiganders and will fight for paid leave, with or without the MIGOP.
###