This week in the Republican race for governor somehow featured more twists and turns than all the ones before it combined, let's just get right into it.
Entire Republican Field – Including the Millionaires – Can't Demonstrate Strong Grassroots Support
Here's how everyone fared with fundraising in the final quarter of 2021, presented without commentary.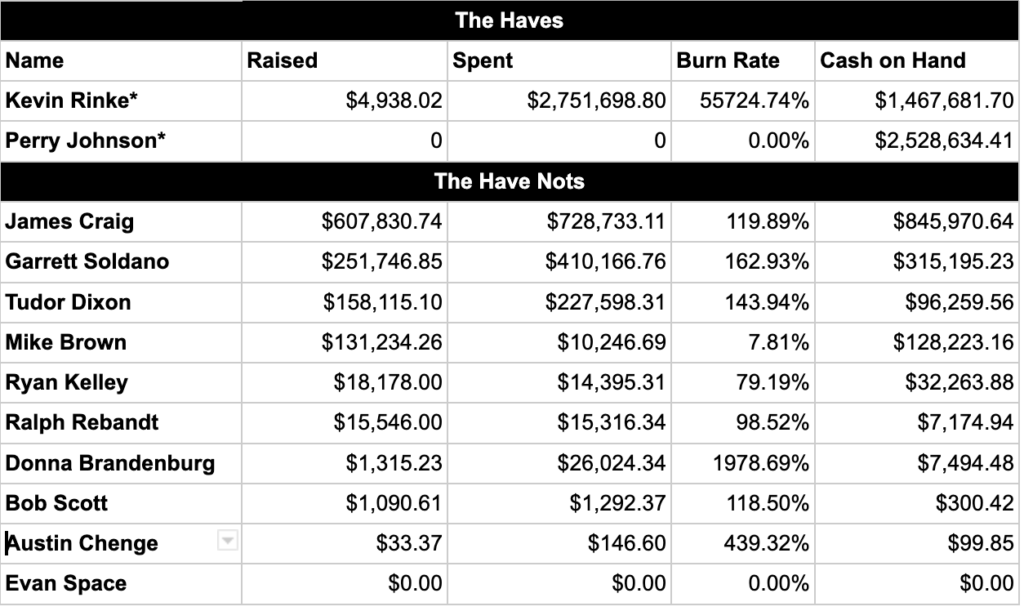 * Kevin Rinke self-funded $2 million, but raised less than $5K the old-fashioned way. His spent total is the sum of his expenditures and debt.
* Perry Johnson was not a candidate during this filing period, but stated he put a little over $2.5 million in "​​to demonstrate that we will financially compete with Gov. Whitmer."
Ok commentary is half the fun. There's really not much to say though. Every single Republican candidate for governor falls into one of the following buckets: they spent significantly more than they raised, they barely raised enough to keep the lights on, or they are relying on their personal wealth to be viable rather than support from actual Michiganders. Next.
Everyone Took a Turn Dunking on James Craig's "Floundering" Campaign …Including James Craig.
The Detroit Dodger continues to struggle to get his campaign off the ground after his most recent fundraising numbers dropped Monday and a series of rough interviews.
A number of unnamed "observers" on Craig's side of the aisle told Gongwer he's "in serious trouble…the race is wide open." One that was willing to attach his name to his displeasure openly tweeted a refund request citing how Craig "continues to play cable TV pundit from his swivel chair instead of raising money and actually campaigning. He doesn't even talk about his candidacy." [Check out our video on that last point.]
MLive said Craig's fundraising "fell off a cliff" compared to his previous quarter. MIRS said he had a "lackluster showing." In a separate MIRS piece with the headline "Has Craig Lost Frontrunner Status?," conservative Bill Ballenger nailed the why: "He has not made himself available to answer questions on issues. He's been a big disappointment to just about everybody who was supporting him. He's floundering as far as I can see." We see it too, Bill!
Even someone that used to be on his team got a swipe in, dispatching Craig as a supporting cast member of the "failed field of candidates [that] …have failed to inspire support."
Frankly, we haven't seen someone get shived by their own this brutally since Jon Snow took several to the gut "For The Watch."
What's worse, the deepest cut came from Craig himself. After being asked in an interview with WXMI exactly what he's been up to, since chummy national cable shows have been the only place he can consistently be found all these months later, Craig said, "a lot of fundraising…I didn't understand and recognize how much goes into really raising funds." We know it's only February, but we'd like to submit that quote for Understatement of the Year, considering he raised less than half of what he did in the previous quarter and his "donations of $200 or less decreased 300% from July to October 2021."
Alexa, play Free Fallin'.
Kevin Rinke Straight Up Lied About His Fundraising. Twice.
It appears even out-of-touch millionaires aren't above absolutely juicing their old-fashioned funding prowess.
During a December interview, Kevin Rinke was asked point blank if he was managing to get people to donate to his campaign after personally pledging to put in $10 million of his own dollars. He replied, "I'm overwhelmed…We're receiving donations of multiple thousands of dollars a day." In reality…he only raised $4,938.02, a tough stretch to have that qualify as 'multiple thousands' on even a single day.
Then, after reports became public, Rinke tried to backtrack by saying that he has "not run a fund-raiser yet." We guess the several desperate fundraising emails citing a frantic "finance director [calling to say] we are in trouble" and a "first fundraising goal of 2022" suddenly don't count.
Tudor Tries It
We've said for months that this primary is messy and divisive, and this week Tudor Dixon's PAC demonstrated proof of concept by unleashing the first primary attack ad of the cycle. The target? "Simply Unelectable" and "liberal" (???) Toyota salesman Kevin Rinke. Mercilessly. Dixon's team unloaded the clip, citing Rinke's countless "age, gender, and racial discrimination" lawsuits that were sparked by his hostile work behavior and threw in some attacks on his conservative credentials to boot.
Garrett Soldano is the Todd Akin of Richard Mourdocks
We all saw the viral clip of Garrett Soldano – who by the way, is back to pushing his anti-vaxx snake oil COVID-19 "cures" – stating that women who are raped should not be able to have abortions because "God put them in this moment" and it would make them "heroic." We all saw him infinity-down on his remarks as it earned him an avalanche of negative headlines and even Donkey of the Day from The Breakfast Club's Charlamagne tha God (who Soldano went out of his way to say he didn't know, because we can't have nice things even during Black History Month). We even saw James Craig jump to his defense and agree with his extreme and dangerous position on abortion.
Oh and Ryan Kelley wants to unplug voting machines. That didn't get as much air as it should've because the known insurrectionist said it while standing next to the guy that wants poll watchers to "lock and load" before entering churches, grade school gyms, community centers, and any other previously benign voting venue that election conspiracy theorists have now decided should be treated like literal battlefields in a free country.
Another One, No Really.
With John "loves to run, loves to lose" James finally opting to lose for a third time but downballot instead, we were worried we may never hit a baker's dozen in the Republican gubernatorial primary. But then, a financial advisor from Grand Haven named Michael Markey hopped in Wednesday after seeing everyone else's garbage numbers. You know, we were going to say why bother, but given the chart above, we can't think of anything this entire field could use more than someone that knows a bad investment when they see it.