JohnJamesRevealed.com Will Routinely Publish James' Far-right Statements & Positions, Including Some He Was Caught Deleting Within Weeks After Losing in 2018 in Effort to Hide from Michiganders
Inaugural Post: James said he supports Trump 2000%
The Michigan Democratic Party is launching a new website to hold failed U.S. Senate candidate John James accountable one year after his unsuccessful campaign came to an end. The website JohnJamesRevealed.com will publish statements James made and positions he took over the course of the 2018 cycle — including some he was caught deleting from his social media in the weeks after his loss. James did not want Michiganders to see his record but MDP's new website will feature the facts, starting with his unequivocal support for Donald Trump.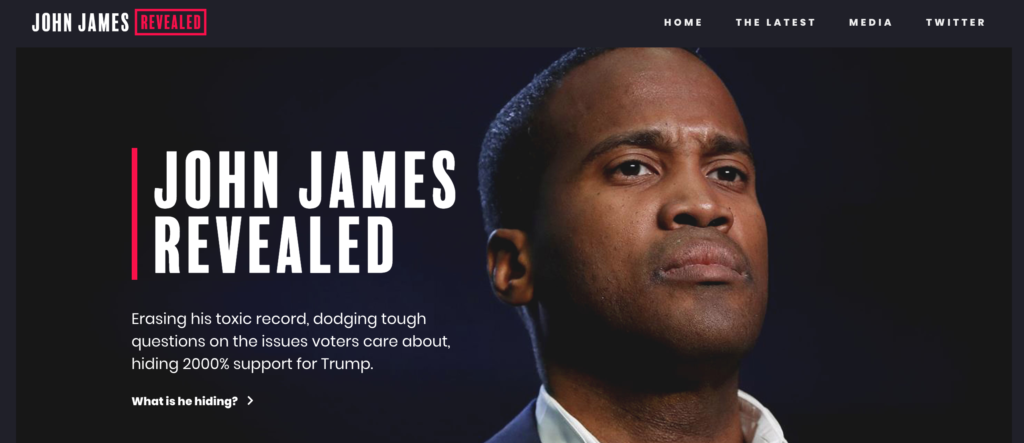 In 2018, James infamously declared his "2000%" support for Trump — revealing he will put Washington ahead of what is best for Michigan. After that pledge cost him votes, James tried to run from it by erasing that video and hundreds of others just weeks after his loss. He has also cropped Trump's name out of pictures this year. Still, Trump remains James' "No. 1 ally" and is set to headline a fundraising retreat tomorrow to benefit James' campaign. James repeatedly "remained silent on the President's conduct" and has failed to name a single issue where he disagrees with the president.
"John James is trying to hide what he believes from voters and the fact is that his true positions would hurt Michigan — whether that's supporting a president '2000%' of the time or promising to repeal coverage protections for pre-existing conditions," said MDP spokesperson Alex Japko. "Voters expect their senator to have the independence to stand up for what is right for our state and as JohnJamesRevealed.com shows, we cannot trust James to put Michigan first."
Since launching his campaign in June, James has refused to answer questions from the media and barely campaigned in public — leading some in the media to observe that "you still have to make a Michigan connection and being kept under wraps sounds like you can't stand on your own two feet. And it's not a good look." Instead, James is traveling the country to fundraise with mega-donors. As he hides from voters, the Michigan Democratic Party will continue to reveal the truth about his record.