LANSING—Today, the Michigan Democratic Party announced a new digital ad campaign reminding voters of failed Republican Senate candidate John James' attempt to erase his unpopular and harmful record. The ad, titled "Erased," features clips of James voicing support for several of his most destructive policy positions. The ad campaign will target voters statewide.

After losing his first bid for the U.S. Senate, James was caught deleting hundreds of social media posts expressing support for policies that would hurt Michigan families. During the campaign last year, James said he supported President Trump's agenda "2000 percent," including attempts to repeal the Affordable Care Act and its protections for people with pre-existing conditions and Betsy DeVos' tenure at the Department of Education. This time around, he is trying to hide those views from voters.
"John James can try to delete his past beliefs all he wants, but he cannot hide his full backing of policies that hurt Michigan families or his pledge to support Trump's agenda 2000%," said MDP Communications Director Paul Kanan. "This ad reminds Michiganders that James is just another politician who will help Washington Republicans gut our health care and expand the DeVos agenda. Michigan voters already rejected James and his toxic platform once, and they will again."
Watch"Erased" HERE.

Transcript:

James: "Well, I'd like to announce that I am running for Senate… Right now, nothing has changed."

ON-SCREEN: Really? Nothing has changed?

James: "Supporting our president's agenda, 2,000%."

ON-SCREEN: ERASED

James: "Our failure to repeal and replace Obamacare is the surest sign that we need someone who will go and work their tail off to remove this monstrosity."

ON-SCREEN: ERASED

James: "The job Betsy DeVos is doing at the Department of Education, I think, is very, very good.

"Right now, nothing has changed."

ON-SCREEN: Except John James. Who started this campaign by erasing his beliefs.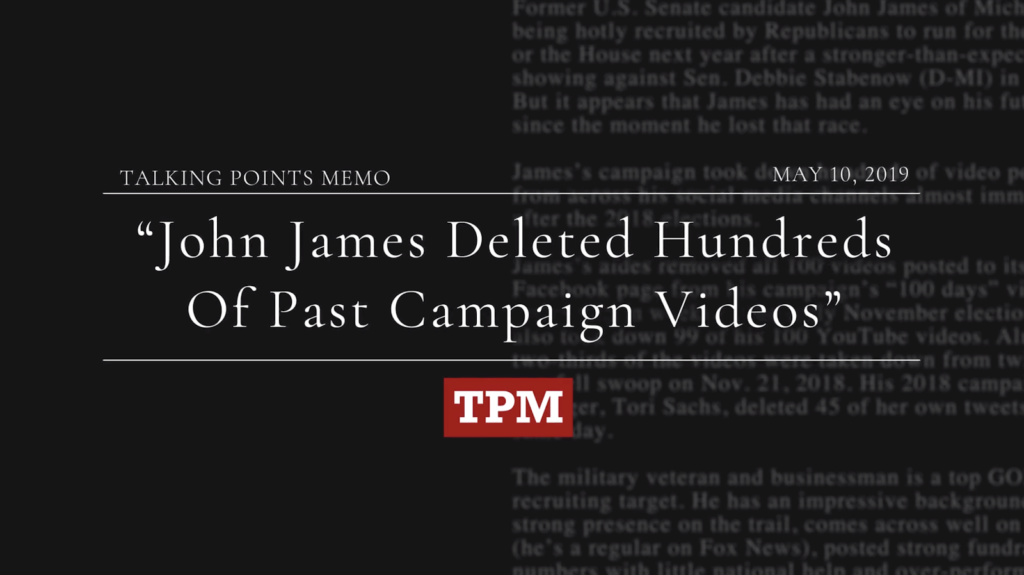 ###