LANSING—Michigan House Speaker Lee Chatfield must remove state Rep. Larry Inman, indicted of federal bribery and extortion charges, by launching expulsion proceedings if Chatfield wants to restore public trust in the Legislature, the Michigan Democratic Party said today. The MDP statement comes as northwest Michigan citizens launch an online petition challenging Chatfield to remove Inman from the House after news broke Wednesday that Inman tried to solicit thousands of dollars in bribes in exchange for a favorable vote. Inman has said he won't resign.
"If Rep. Larry Inman refuses to resign, House Speaker Lee Chatfield has no choice but to expel him without further delay. The people of Michigan deserve to know that those they elect to represent them in Lansing are not offering their votes to the highest bidder," said MDP Chairwoman Lavora Barnes. "Public service is a privilege, not a permit for personal enrichment or political advancement. Inman's refusal to take responsibility, along with Chatfield's failure to hold him accountable, show a deeply troubling pattern of Republican disdain for the working people of our state. The residents of northwest Michigan and working families throughout our state deserve representatives that put the people first and do not abuse the public trust or the power of their position."
The Michigan Democratic Party and the Grand Traverse Democratic Party are spearheading the online citizen's petition calling on Speaker Lee Chatfield to take immediate steps toward Inman's expulsion from the Michigan House of Representatives.
"Rep. Larry Inman is being charged with federal crimes that undermine his ability to do his job, which is to represent the voters of Grand Traverse County with integrity, and if he won't go voluntarily, then he must be removed without any further delay," said GTDP Chair Chris Cracchiolo. "Voters across northern Michigan are shocked and deeply disappointed. They have no confidence Larry Inman is acting in the interests of his constituents and they want House Speaker Lee Chatfield to do his job if Inman refuses to do the right thing."
The online citizen petition can be found at action.michigandems.com/page/s/inman.
The online petition reads:
Tell Lee Chatfield to stand up to corruption and expel Inman! Add your name →

Rep. Larry Inman of the 104th District faces serious federal charges of bribery, extortion, and lying to the FBI after he was caught with text messages offering to sell his votes in the Michigan Legislature for thousands of dollars in campaign contributions.

The citizens of Michigan deserve public officials who act with integrity, and the allegations against Larry Inman show he cannot be trusted to put northwest Michigan and working families before corporate special interests and backroom political dealing.

If Larry Inman refuses to resign, House Speaker Lee Chatfield must use his authority to expel Inman from the Michigan House of Representatives as a necessary step toward removing corrupt influences from the halls of our Legislature and restoring the public's trust.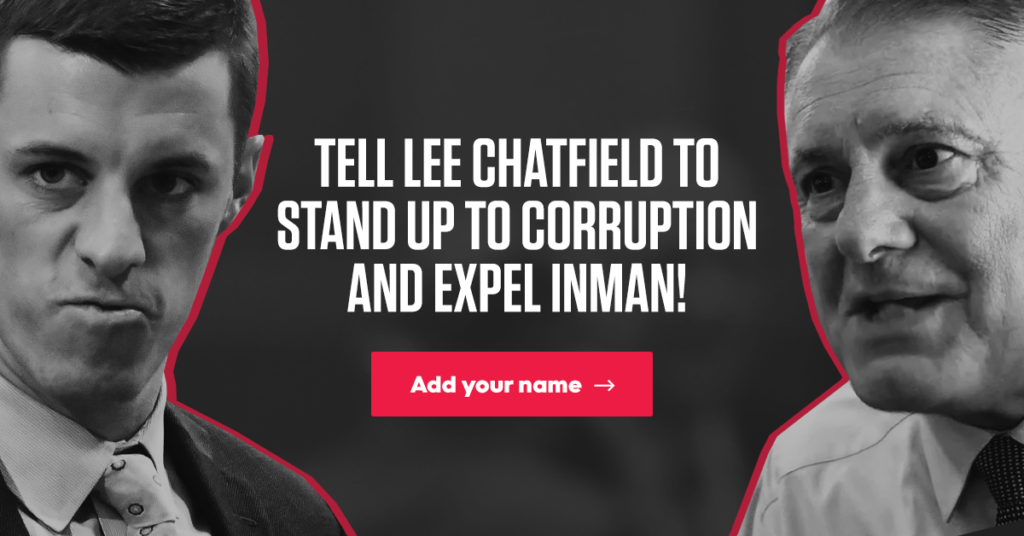 ###